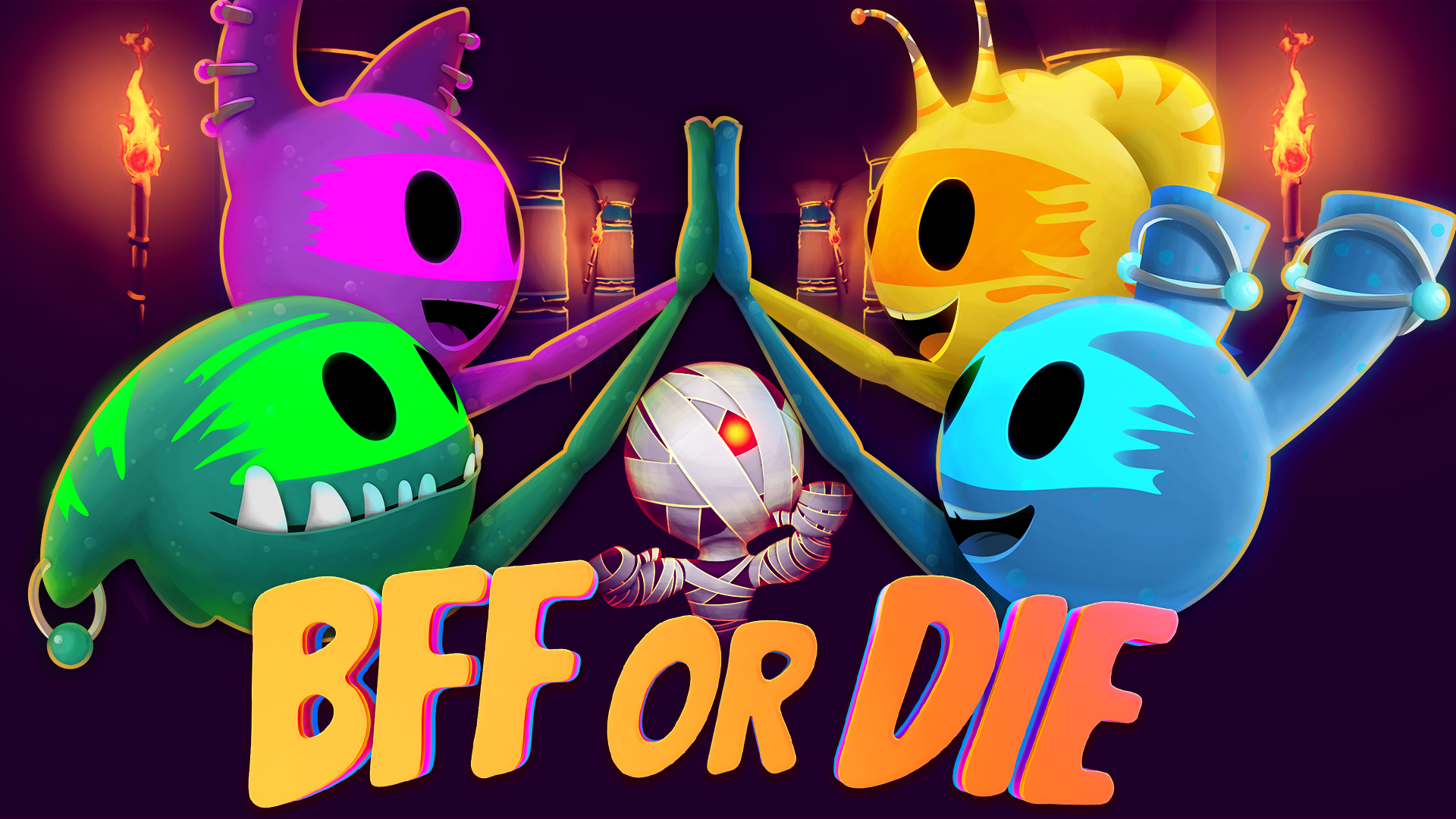 Description
BFF or Die is a cozy and crazy cooperative puzzle game that you can play with up to four players! You're a time traveling alien sent to Earth on a risky rescue mission. Utilize your gadgets to overcome danger and survive!
History
BFF or Die, developed by ASA Studio, introduces a motley crew or time traveling aliens, venturing to a strange planed called "Earth" in order to recue the Orbees, a mysterious species who helped build a crucial set of gadgets. Take charge of each gadget, combining abilities and co-op strategy, to save your friends! Use cunning wit and camaraderie to survive, but never forget the Academy motto: "BFF or Die!" 2Awesome Studio is proud to partner with ASA Studio to present BFF or Die on Steam, Nintendo Switch, PS4, and Xbox this November, 2020.
Features
In co-operative gameplay, help each other or... you die.
Story mode with 30 dynamic levels and at least 2 hours of gameplay.
Unlockable "Infinite Trials" game mode featuring challenging randomized levels and… more hours of gameplay.
Added artifact challenges - go back and collect them all
The more players, the crazier the gameplay.
Intense boss battles with challenging patterns and epic scale
Levels adapt to the number of players.
Multiple characters - each with a distinctive personality.
---
Videos
BFF or Die - Launch Trailer YouTube
---
Images
download all screenshots & photos as .zip (16MB)
---
Logo & Icon
There are currently no logos or icons available for BFF Or Die. Check back later for more or contact us for specific requests!
---
Additional Links
Discord
Join the 2Awesome Studio community on our Discord discord.gg.
---
About 2Awesome Studio
Boilerplate
2Awesome Studio is an independent game development studio and indie publisher whose mission is to add awesomeness to reality by developing video games with new and addictive mechanics and finding games that are equally awesome to publish.
More information
More information on 2Awesome Studio, our logo & relevant media are available here.
---
BFF Or Die Credits
ASA Studio
Developer
2Awesome Partners
Publisher
Contact
---
presskit() by Rami Ismail (Vlambeer) - also thanks to these fine folks